Regional Conference on Africa's Oil, Gas and Mineral Resources for Development – May 11th to 13th, 2010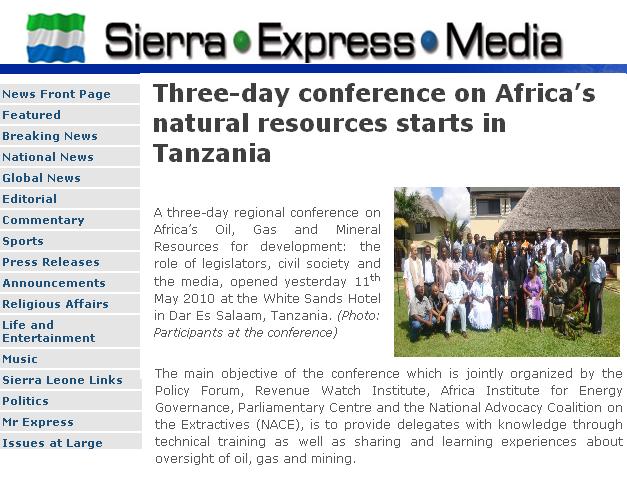 ---
Start: May 11, 2010 8:00 am, 2 More
End: May 11, 2010 5:00 pm
---
Start: May 12, 2010 8:00 am
End: May 12, 2010 5:00 pm
---
Start: May 13, 2010 8:00 am
End: May 13, 2010 5:00 pm
---
Policy Forum, Revenue Watch Institute, the African Institute for Energy Governance, the National Advocacy Coalition on Extractives, and the Parliamentary Center are jointly organising a Regional Conference on Africa's Oil, Gas and Mineral Resources for Development: "The Role of Legislators, Civil Society and Media" from 11 to 13 May 2010 at the White Sands Hotel in Dar es Salaam, Tanzania.
The organizers have been supporting a number of capacity building pilot projects in Ghana, Tanzania, Uganda and Sierra Leone for Legislators, Civil Society and Media, with the aim to strengthen their monitoring and policy engagement capacities in the areas of oil, gas and mineral governance as well as the Extractive Industry Transparency Initiative (EITI).
This conference complements ongoing country efforts and will be an opportunity for MPs, civil society and media from Ghana, Sierra Leone, Tanzania and Uganda to share knowledge and experience from their engagement in the oil, gas and mining industries.